Ready to publish your track?
You've spent some time filling in all the track information: worry not, the end of the journey is nigh: you're just a couple of clicks away from making your track available to the whole world!
Bravo! You made it to the end of the video tutorials :-)
Step 1 - Access the Upload/Manage My Music section of your dashboard.
Step 2 - If you've followed all the steps carefully, the track you've uploaded should be marked as 100% completed: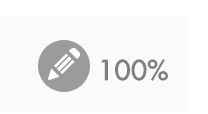 Step 3 - If that's the case, you'll simply have to switch the publishing button from unpublished to published. The button will go from grey:

To green:

Tada!
Your track is now online and discoverable by thousands of users around the globe. Simply click on its name to land on its dedicated, public track page. This is the page you can also share on your social media pages!
If it does not work, you will see an error message when hovering over the publishing button. It will tell you which information in the edit mode is missing. Please fill in what is missing, then you can publish it.
Unpublish your track
Just as you can publish your track, you can also unpublish your track, by switching the publishing button again. Your track is then removed from the Jamendo Music and Jamendo Licensing pages, but it will still be on your artist account. You can publish it again sometime later.