Edit your tracks
Track information - all tabs explained
Information
Lyrics
Artwork
The format of your artwork must be JPG, PNG, or GIF. The image size must be between 600 and 3000 pixels, and must not exceed 2MB.
Some tips on choosing artwork for your album can be found here.
Credits
This is the place where you can mention any person who contributed to your song: it can be a songwriter, co-songwriter(s), your performer(s), your publisher(s), your producer(s) or anybody else. It's also a good place to write about your influences and the people/works that inspired the creation of yours.
Let's have a quick look at the credits of the track Walking K by Bartek: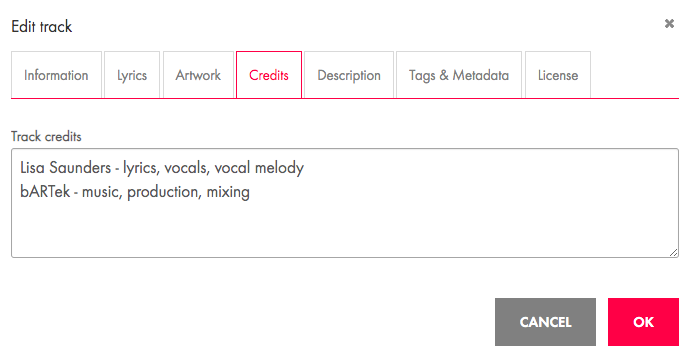 Description
This is the place where you can write about your track and what you've been trying to accomplish with it. From your influences to the mood you've been willing to set up, the description is a great place to hook your listeners and let them know more about the world they're going to dig into.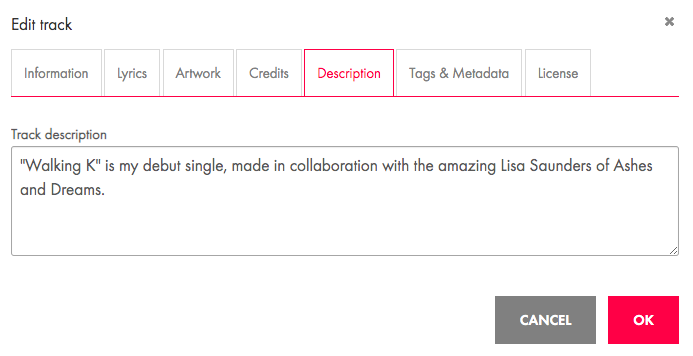 Tags & Metadata
License
The license we're mentioning here is the Creative Commons License that will be attached to your new work. As you know, whenever you upload a track on Jamendo, it is by default uploaded to Jamendo Music, where all the tracks are registered under a Creative Commons license.
You can understand those Creative Commons licenses as a tacit agreement between you and the Jamendo Music users downloading your tracks: the Creative Commons license linked to your song will determine what users can and cannot do with your track.
By default, we apply the most restrictive type of Creative Commons License (CC BY-NC-ND 3.0). We strongly advise you to not change it. Here is how it looks: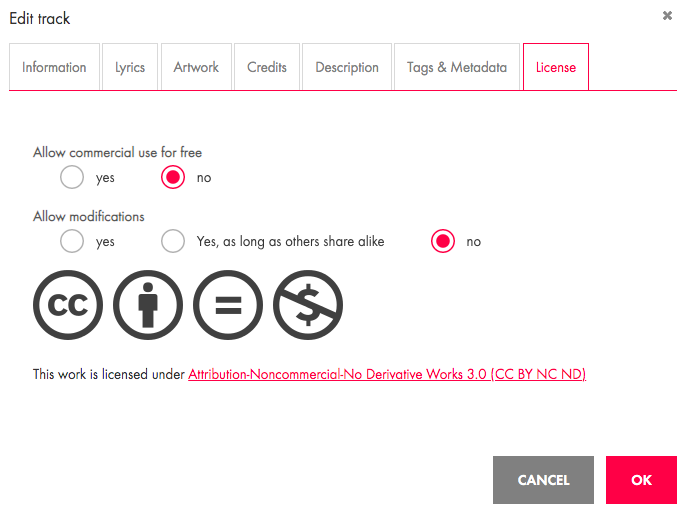 This license means that:
users cannot create any derivative project (remixes, use in videos, etc.) with your track without your consent or without having purchased a commercial license from you
users cannot use your track in any commercial project
This is especially great if you want to sell commercial licenses through the Jamendo Licensing program or if you intend to participate in the Youtube Content ID program. For your tracks to be eligible for YouTube Content ID, they need to be under CC BY-NC-ND.
Further reading