Stats on Jamendo Music - Creative Commons
In your artist account, you have a menu called "My stats". Here you can follow the progress of your tracks on Jamendo Music.
Important note: These statistics ONLY refer to the listens & downloads of your tracks under the free Creative Commons on Jamendo Music (jamendo.com/start). They give NO indication to their performance in the Jamendo Monetization Services.
How to view your stats
You can view your stats for all of your work (global) or by track or by album. You can furthermore view them for different timelines (the past week, the past month, the past year, or all-time).
Note that if you have published your first album only a month ago, then you can see your stats in "past month" but you will get no results yet in "past year".
You can also keep track of which songs have been added to various playlists and which have been marked as favorites by the Jamendo listeners.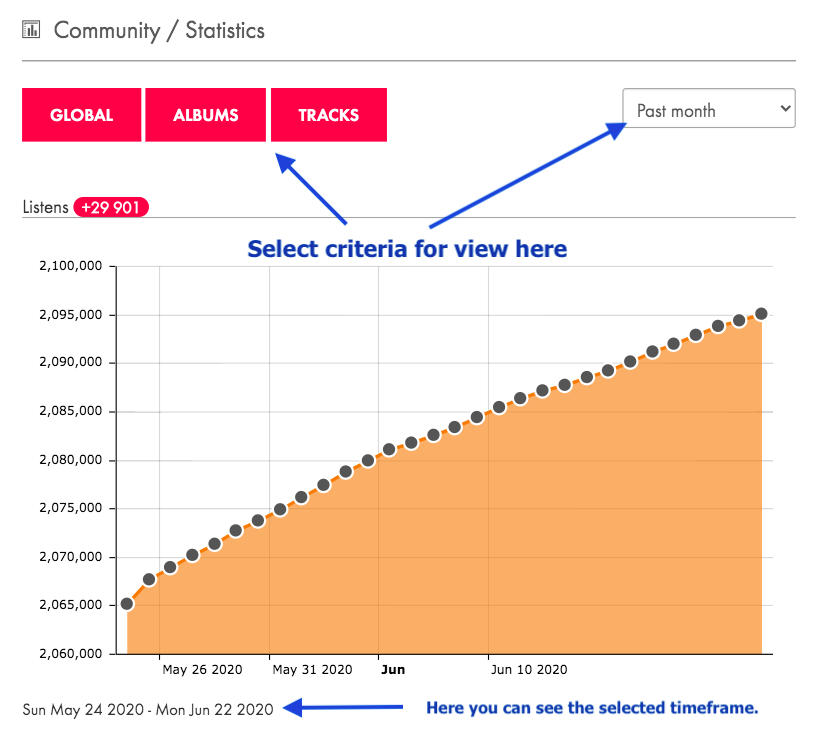 What if you unpublish an album?
If you unpublish an album, your global stats should theoretically be decreased by the number of stats that belong to the album that is unpublished. But, since your album is not deleted, but only unpublished, those stats are only hidden. This means that your global stats will increase only once your other, published, work, has accumulated the sum of the hidden listens and downloads.
Let's try to illustrate this with an example:
You have two albums that have the following stats:
Album 1 - 1.000 Listens - 500 Downloads
Album 2 - 500 Listens - 200 Downloads
Total - 1.500 Listens - 700 Downloads
Now you unpublish Album 2. Your total statistics will still appear as 1.500 Listens and 700 Downloads but the statistics of the Album 2 are now hidden. From the day that you have unpublished Album 2, Album 1 needs to gain the hidden stats (500 Listens and 200 Downloads). Only when Album 1 has gained these numbers of listens and downloads, will your global statistics increase again.
If you publish Album 2 later again, then their stats will be added to the total score again.
What if you delete an album?
If you delete an album, those statistics are removed from your total statistics and can no longer be retrieved.