The Catalog licenses
Imagine your music will be played in family videos, publicities, during an event, in a mobile app, or even in a video game! The Jamendo Catalog licenses make exactly this happen and this article is telling you more:
What are the Jamendo Catalog licenses?
The Jamendo Licensing Catalog offers several different licenses of synchronization. One license is valid to synchronize/use one song in one project. The projects can be online videos, audios (e.g. a podcast), a mobile app, radio, cinema or television spots, video games, and others. The licenses are perpetual, meaning that the song can be used forever in the project that the client has indicated on their license. Depending on their scope, Catalog licenses have different prices.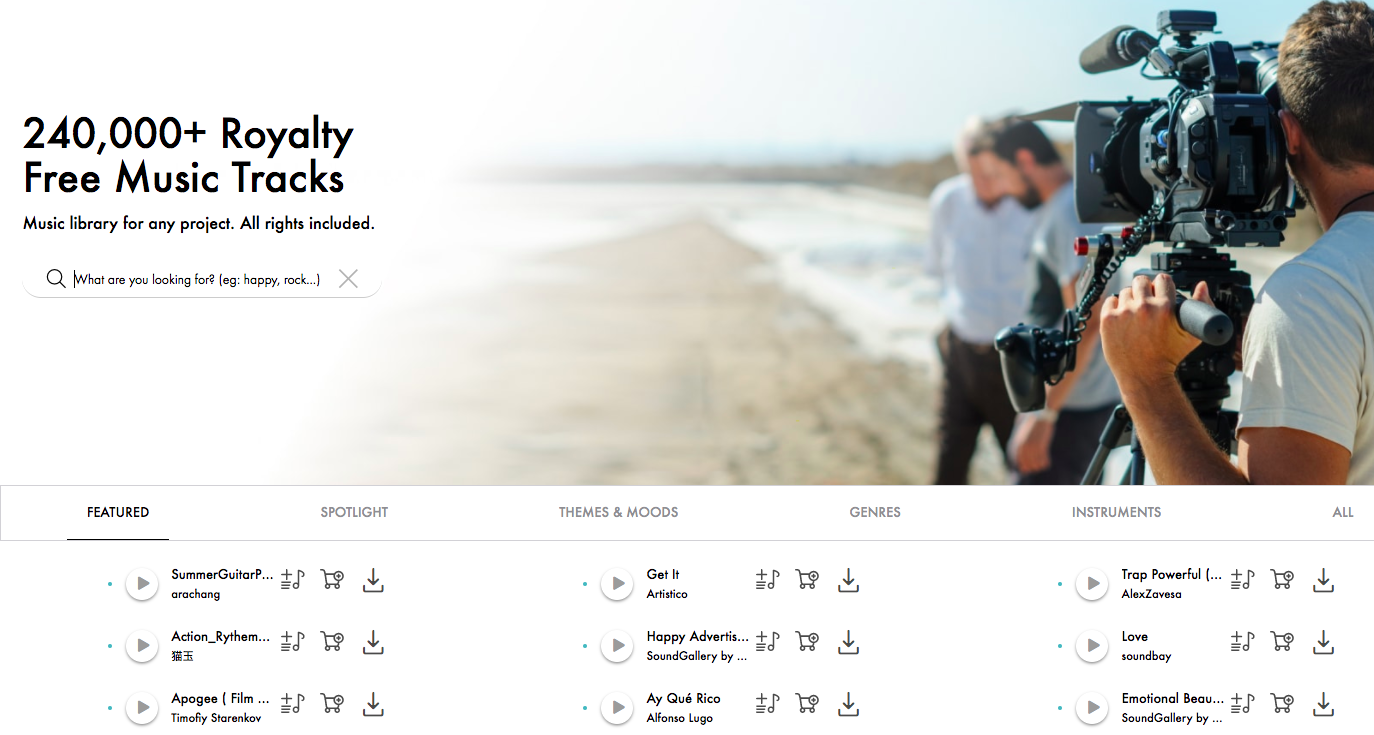 Do you want your songs to be part of the Catalog? In your artist account, you can participate under the menu "Sign up for Jamendo Licensing".
A step-by-step guide on how to apply can be found here.
Which of my songs are sold in the Catalog?
When you apply your tracks for In-Store, they will first be moderated on their quality and relevance. The songs that are accepted are added immediately to the Catalog.
As the name indicates, the Catalog has many thousands of songs from Jamendo artists. Although we add the best songs in the spotlight, the customers choose which song they want to license. For this, they use the search bar. If you want your music to appear under the right search terms, it is crucial that you tag your songs correctly.
How are Catalog royalties calculated?
The share that you receive on each license sold depends upon two factors: (1) the total number of sales and (2) exclusivity. The revshare can be between 30-65% of the respective license price.
The more licenses that are sold of your music, the higher becomes your percentage per license sold. This is a motivation for you to keep composing and improving your skills as a musician. The better you become, the more you will sell, the higher your percentage becomes.
If you license your music exclusively on Jamendo, your share is higher then if you license it through several websites.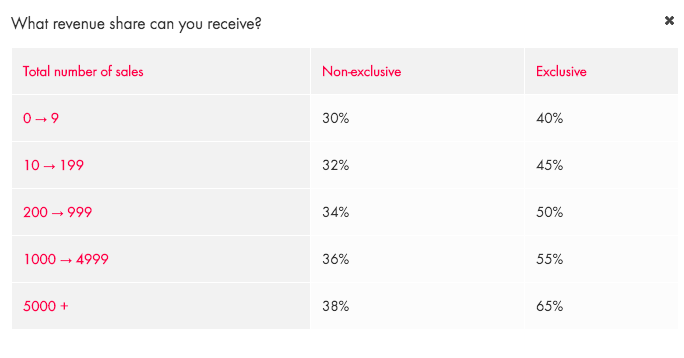 In your artist account, you can find a revenue simulator. It allows you to calculate the amount that you earn for each license type, by taking the two criteria into account. Click on the menu "Sign up for Jamendo Licensing". You can then see a new menu just underneath that is called "How it works".

What is exclusivity?
You can license your songs on several websites or exclusively on Jamendo. If your track is not available on any other platform, the percentage you earn per license sold is higher on Jamendo. Exclusivity only applies to Licensing and other Licensing platforms. This means that if you are exclusive on Jamendo, you cannot license your music on similar platforms, like Audiojungle, Epidemic Sound, etc. Exclusivity does not apply to the sale and streaming of your music on platforms like Spotify, YouTube, Amazon Music, Apple Music, etc.
You can define exclusivity for each song separately. Exclusivity is a two-year-agreement and can only be stopped after two years or if you remove your music from Jamendo.
When is the Catalog revenue share injected?
Immediately after a client has purchased a license of your song, the revshare is injected into your artist account. You can see it under "My transactions". The Catalog revshares become payable 4 months after the transaction has been made. This means that they are injected immediately into your full balance, but they can be paid out only 4 months later. Find more info on payments here.