Should I give my music away for free?
For most of us, the answer to this question is quite clear. Others might see it more as an ethical question that should be considered to think about. Either way, this article helps all of you, starting with: How can I allow or block the free download of my music?
Note: On Jamendo Music, all tracks are available under Creative Commons licenses (CC). CC is an alternative to the classic copyright scheme. It provides a legal way to share music for free through the internet. In this sense, the music can be streamed for free and for many years, also be downloaded for free on Jamendo Music. It is quite recent that the option was added to block the free download.
How to block the free download?
In your artist account, visit the menu Sign up for Jamendo Licensing.
Scroll down to the table with the name of your tracks.
Check the box "Disable downloads on Jamendo Music". You can check the box for all tracks or only for separate tracks.
Don't forget to "Submit and continue"

The watermark copies are still.... what does it mean?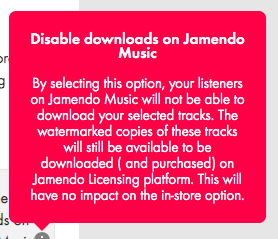 The free download will be disabled for the Jamendo Music platform. However, there the Jamendo clients can still download the tracks on the Jamendo Licensing platform. This is possible in two scenarios:
1. scenario: In the Jamendo Catalog all tracks can be downloaded in mp3 format with a watermark on it. You can test the Download low quality mp3 version (for testing purposes only). When you listen to it, every few seconds a voice says "jamendo.com". This version cannot be used for any projects. The clients use the watermarked tracks only to test and compare several tracks before they decide on one and purchase a license for that one. When they have bought a license, they can download the proper WAV and FLAC versions.
2. scenario: Jamendo In-Store clients who do not have an internet connection for streaming the music in their store, can download the playlists of the In-Store radios in mp3 format. They are, of course, only covered to play those downloaded tracks for the validity of their license. We invite every In-Store customer to delete all downloaded tracks every 6 months and then, download them again. This way they will be sure to be up-to-date and we are sure that your music is no longer played

if

you have removed it from Jamendo.
Why should I give my music for free?
Or why should I not give my music for free? You can make your music available for free under Creative Commons (CC) and sell licenses of it and monetize it on different platforms in different ways. A Creative Commons license does not exclude other licenses. But the user can only use the track under the license they get it by. Many customers choose to purchase a license because it gives them a proper license certificate.
The other way round, if you offer your music for free, more users are likely to cheat and use your music in their videos, even if your CC license does not allow them to. Some artists exclude some music for download, the tracks that were created especially for sale. You can also allow the free download for some of your tracks to work as a preview and free give away of your work. And this brings us to the next thought:
Your music as a gift to the world
Your music is a medium that you use to communicate your ideas and inspirations with the world. Your music makes people move, reflect, it can make them happy or sad. When you share your work you are inviting other people into your world of creativity. Simple imagine if someone becomes inspired by your work of art. Just imagine your music can create special moments for your listeners. That is the most wonderful feeling that many artists around the world, be it musicians, painters, or writers, are striving for. Your music can be a gift for many people. Maybe this can be some food for reflection on the topic.